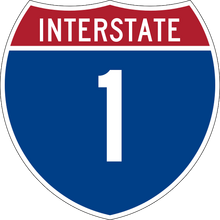 Interstate 1
 (
I-1
) is a main
Interstate Highway
running parallel along very closely to the Pacific Coast of the United States from
Dana Point, California
to
Grant Pass, Oregon
. It is one of the two coastal Interstate Highways in the United States, the other one being
Interstate 101
(I-101), which runs parallel closely to the Atlantic Ocean. The southern terminus is at
Interstate 5
(I-5) in Dana Point, California. The northern terminus is at Interstate 5 (I-5) in Grant Pass, Oregon. The interstate is only in the states of
California
and
Oregon
. In California, the entire highway is known as the
Pacific Coast Freeway
. From
Santa Monica
to Dana Point, it is known as the
Dana Point Freeway
. It is one of the state's most famous freeways and highways. The entire interstate is parallel to
California State Route 1
(CA 1),
U.S. Route 101
(US 101), and partly
Interstate 5
(I-5) and
U.S. Route 99
(US 99). The interstate provides great scenic view of the
Pacific Ocean
and the mountains passed by the interstate, forcing each direction to split out. However, tunnels are involved, allowing the interstate to go through the mountains.
Route description
Edit
California Edit
In Dana Point, after Interstate 5 (I-5) is done paralleling the Pacific Coast and turning inland as the Santa Ana Freeway, I-1 takes over and begins in Dana Point as I-5 and I-1 splits southeast of the city. I-1 begins as the Pacific Coast Freeway. The highway starts sharing routes with California State Route 1 (CA 1) as it runs northwards leaving Dana Point then next up is Laguna Beach, where California State Route 133 (CA 133) begins at I-1. Next is Newport Beach, where California State Route 55 (CA 55) begins as it heads to Costa Mesa becoming a freeway. As I-1 starts paralleling Interstate 405 (I-405), it heads to Huntington Beach, where California State Route 39 (CA 39) begins.
Dana Point, California
Edit
Los Angeles
Edit
Huntington Beach Edit
Long Beach Edit
Santa Monica Edit
Malibu, California
Edit
Oxnard to Ventura, California
Edit
Santa Barbara, California
Edit
Santa Maria, California
Edit
Morro Bay, California
Edit
Ooscondio, California
Edit
Nacimiento, California
Edit
Santa Cruz, California
Edit
San Francisco
Edit
Golden Gate City
Edit
Crescent City, California
Edit
Grant Pass, Oregon
Edit