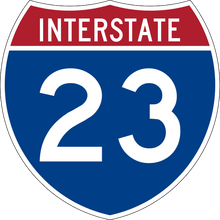 Interstate 23 (I-23) is an Interstate Highway in the western United States. The southern terminus is in Flagstaff, Arizona at Interstate 240 (I-240). The northern terminus is in Mountainville, Utah at Interstate 80 (I-80), southwest near Great Salt Lake National Park (GSLNP).
I-23 is only in the U.S. states of Arizona and Utah.
I-23 is mostly parallel to its "sister route" and is the "brother route" of Interstate 21 (I-21) in the southern portion of the interstate.
Route description
Edit
Main article: Interstate 23 in Arizona
Main article: Interstate 23 in Utah
Flagstaff, Arizona
Edit
Routeville, Utah (Highway City)
Edit
Main article: Kimberly Blanding Highway
In Highway City, I-23 is locally known as Kimberly Blanding Highway. It serves as the main north-south expressway in Routeville, the eastern city of the metropolitan area of Highway City, and east of the Town Separator.
Mountainville, Utah
Edit