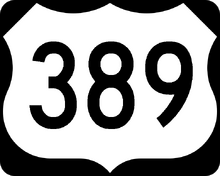 U.S. Route 389 (US 389) is a U.S. Highway in the western United States that is an auxiliary route of U.S. Route 89 (US 89). It travels in the east-west direction from its western terminus at Interstate 80 (I-80) in downtown Reno, Nevada to its eastern terminus at U.S. Route 491 (US 491) near Gallup, New Mexico.
US 389 travels through the U.S. states of Nevada, Utah, Arizona, and New Mexico.
US 389 is nicknamed "The Terrestrial Highway of the West" because wide open spaces are involved along the road. In Nevada, the road is called the Terrestrial Highway because it goes through the towns of Extraterrestrial City and Terrestrial City.
Route description
Edit
Reno, Nevada
Edit
Extraterrestrial City
Edit
Terrestrial City
Edit
Highway City
Edit
Main article: Nanospore Avenue
In Highway City, US 389 is locally named Nanospore Avenue in both Intertropolis and Routeville. Evidently, US 389 is one of the three main public roads in the metropolitan area of Highway City, other two are US 86, which runs east-west, and US 47, which runs northeast-southwest in the zigzag way, which is why it is called The Zig Zag Road. In Intertropolis, US 389 runs the northwest-southeast direction, intersects US 86 in the upper side of town between I-21 and I-48, while it runs concurrent with US 47 southwest of Downtown Intertropolis. In Routeville, US 389 runs the east-west direction, and is the southernmost major public road located in the southernmost part of town, running parallel to I-248 on its south however.
Intertropolis, Nevada Edit
Routeville, Utah Edit
Springdale, Utah
Edit
Windowville, Arizona
Edit
Gallup, New Mexico
Edit